I made these comics while I was blindfolded.
Cast of Characters
Comics I Made While Blindfolded has several recurring characters. Some of them notice that their world is not quite how it should be, they are referred to as "seers."
Seers see things in their own world as looking strange just as we outside viewers see things in their world as looking strange.
The rest of the characters who are not seers accept their world with few questions asked.
SEERS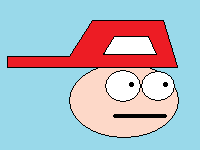 Dave
Dave is the youngest of the seers and has thought something is "up" with the world for as long as he can remember.
He is naturally inquisitive, when he was younger his favorite question was, "what's that?" His father is William, though William isn't a seer,
which can sometimes lead to misunderstandings between him and his son. Dave can always be seen wearing a red baseball cap.



Brittney
Brittney is also a seer, though she only recently began to see things the way the other seers do.
Brittney is a kind and intelligent person. She is also completely honest, sometimes harshly or bluntly so. She is Jessica's longtime friend.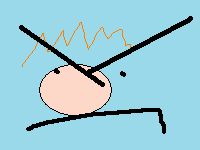 Rick
Rick is a seer who is resentful of it. For instance, he complains often that he is ugly, even though he looks mostly
the same as other people. He seems to have the perception of how the world ought to be, rather than simply the perception that something is "amiss."
Rick has battled depression for a while, and has had some relationship issues. Though he can sometimes seem agressive and unfriendly, he is a good person at heart.



Joseph
A seer who is best friends with Murray. Like Rick, he somewhat resents being a seer, as he notices that Murray can enjoy
life's experiences without questioning them for what they are. However, Joseph doesn't let the fact that he is a seer depress him in any serious way.
Joseph is instantly recognizable by his tan and his "detached nose."


NON-SEERS



Bob
An all-around friendly guy. Everyone knows Bob and gets along with him. He seems to be completely oblivious to whatever seers are talking about.
Bob is a rather adventurous person and often does exciting things like skydiving or horse riding.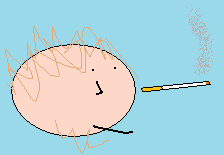 Murray
Murray is a laid-back guy who is always willing to listen to people, even seers. Though he is not a seer himself, he remains open-minded to them.
He is best friends with Joseph. Murray is often seen chain-smoking cigarettes.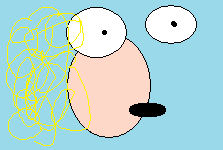 Jessica
Jessica is a waitress at a local restaurant and is a freshman college student. She enjoys shopping and going out with friends.
She is best friends with Brittney. Sometimes, Jessica can be a bit shallow and overly concerned with outward appearances.



William
William is Dave's father. Usually he is busy with his job but when he has free time, he spends it with his son.
He is a dedicated single father and would give anything for Dave. Despite occasional misunderstandings between William
and his son Dave which arise from Dave's seer status, the two have a good father/son relationship.
William is easily recognized by his stylish handlebar mustache.